Start at Marine Park and head out into Bellingham Bay around the Fairhaven Shipyards and Alaska Ferry Terminal. Aim for the red R4 Starr Rock buoy. There will be a Traverse Sailboat anchored to give you a waypoint to head towards. Come around the buoy and turn South to the set of pilings off of Taylor Street dock. After you circle the dock, turn North and head past Boulevard Park to Cornwall Beach.
NOTE: All boats must be in the water by 4:30 pm.
Soloists: You must be in the water by 4:30 pm. Period.
Teams: If your teammate from the Trail Run is not there by 4:30- the paddler starts the leg.
Foul Weather Conditions:
Our Traverse Water CREW makes the decision of the conditions at 1:30pm. If the conditions warrant, we will switch to the SHORT COURSE (shown on the map in grey).
If the conditions are unsafe, we will cancel the leg completely. In this case, the TRAIL RUN will be re-routed to run from the Fairhaven Transition, along the Greenways Course to Cornwall Beach where you will meet your team to complete the FINAL TEAM TREK to Boundary!!
WARNING: You must be a self-sufficient paddler. Please have the correct equipment and knowledge of a self-rescue. We will have our Traverse Safety CREW out there to help if you need it.
If you need help raise your paddle over your head and wave it in a circle and blow your required whistle.
(Est. time 50 min for the full course & 25 min for the short course.)
You must pick-up your kayak by 5:30pm (so our volunteers can join the party)
Parking:
For Marine Park: Please park in the Fairhaven Shipyard parking lot that is right along the road leading into Marine Park or along Harris Ave and 4th St.
Downtown: Please park in the gravel lots on the East side of Cornwall Dr.
Equipment:
Kayak, Canoe, SUP… (you get the idea)
PFD
Whistle
Bilge pump
Water
Need a Boat/SUP? Check out our complete Traverse Gear Rentals
Volunteers from Community Boating Center will help you in the water at Marine Park.
At the end of the Paddle Leg, members of the Whatcom Rowing Association will be there to help people with their boats.
Thank them for lending a hand and check out their organizations!!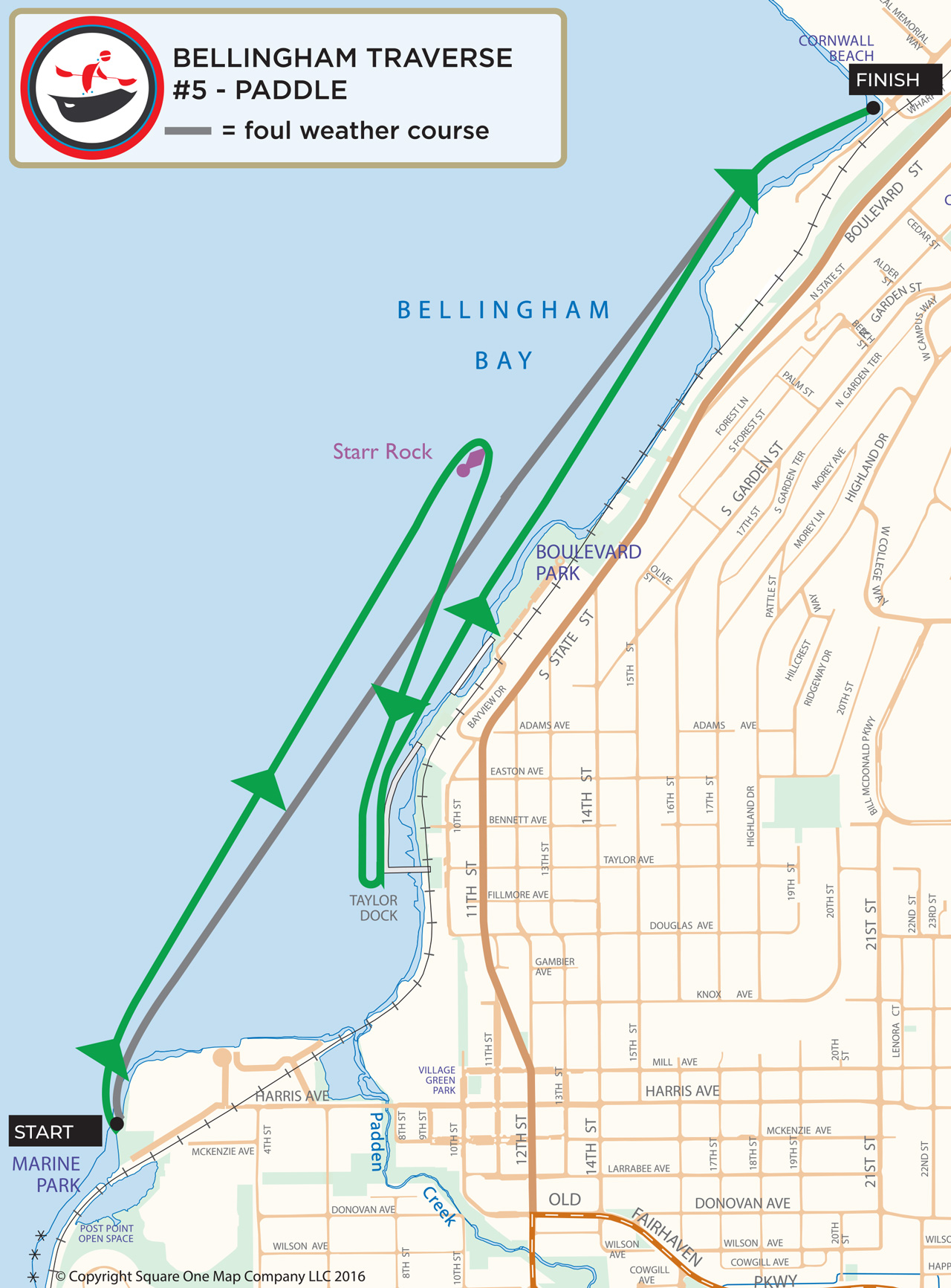 Traverse Course
Click the icon for specific race leg information:
Traverse Sponsors