IMPORTANT RACE UPDATE – 9/10/2022
Dear Racers:

It is with great disappointment that we've decided to cancel the Bellingham Traverse today. This was not an easy decision to make but we are seeing Air Quality levels in the 180s at Lake Padden and the forecasts are predicting it will get worse today. At these levels, we do not feel comfortable exposing you to the smoke. This range is considered "unhealthy for everyone".

We will send a follow-up email with details on how to request a rollover, refund or donation. We will also post instructions on the website.

The resources we are using to monitor current and forecasted air quality in the region are:

Thank you for your understanding. The health of our community is at the heart of everything we do and we want you to know we're making this decision with your health in mind.

Best,

Marc Blake and Tyler Pouley

Co-Race Directors
IMPORTANT RACE UPDATE 9/9/2022
Dear Racers:
We wanted to let you know we're aware of the decreased air quality in Bellingham, and we are monitoring it closely. Currently the air quality index is still in the "good" range but we are seeing some predictions that air quality could move into the 150-200 range tomorrow which is "unhealthy for everyone". In that range we wouldn't feel comfortable encouraging racers to participate in the race.
We will make the call to host or cancel the race tomorrow morning at 7:00 am. If air quality is in the 100 – 149 range we will still proceed with the race but will offer teams who do not feel comfortable competing the option to roll over their entry to next year, or ask for a partial refund (minus 15% processing fee).
If the air quality index is 150 or above we will sadly have to make the call to cancel the race. If this happens teams will have the option to rollover their entry, receive a refund, or donate their entry.
As a precaution we are cancelling the Friday night packet pickup at Boundary Bay Brewery this evening – and will instead be extending our packet pick up hours on Saturday morning from 8:00am-11:30am at The Portal to accommodate all teams picking up on race morning.
The resources we are using to monitor current and forecasted air quality in the region are:
We are hopeful that the air quality predictions are incorrect and that we will get the chance to cheer all of you on tomorrow! Thank you for your understanding as we make this tough call for everyone's health and safety.
Best,
Marc Blake and Tyler Pouley
Co-Race Directors
Thank you for being part of the 2022 Bellingham Traverse! We are excited to see you Saturday, September 10th. Please read through the following information carefully to prepare for an epic day:
Basic Race Info
Date: September 10th, 2022
Start Time: 12:00 pm
Race Start Location: The Portal – Bellingham's Container Village (296 Laurel Street)
Team Registration
Please review your registration to make sure your team is complete. All of your teammates need to be entered in the registration system and need to sign the online waiver before you can compete.
To review your registration:
Log into your account at https://register.pacificmultisports.com/Account/Login
From the drop-down in the upper right corner select "My Registrations"
Click on Bellingham Traverse
Click on Manage Team
Confirm that all of your team members are entered and there is a "Yes" next to their name in the Waiver column. If there is "No" in the Waiver column, follow up with your teammates and/or resend the invite to ensure they complete their registration.
Schedule of Events
CLICK HERE FOR A DETAILED SCHEDULE OF EVENTS
Friday, September 9th
5:00 – 7:00 Packet Pickup at Boundary Bay Brewery – CANCELLED (SEE AIR QUALITY UPDATE ABOVE)
Saturday, September 10th
8:00 am – 11:30 am Packet Pickup @ The Portal – Bellingham's Container Village (296 Laurel Street) Look for the red Traverse tent.
9:00 am – 11:00 am Equipment Staging at Transitions
11:15 am Informational Meeting at The Portal
12:00 pm START at The Portal
2:00 pm – 5:30 pm Traverse Finish Line at Boundary Bay
3:00 pm – Boundary Bay Beer Garden after party starts
5:30 pm – Awards Ceremony in Boundary Beer Garden (after the last team finishes & all the kayaks have been claimed).
Please Note:
2:45 pm we will release any Road Bikers who have not left yet
4:30 pm we will release any Paddlers who have not left yet
By 5:30 pm at the latest, all kayaks must be claimed from Waypoint Park
Courses
We've made some changes to the course this year. While the mileage for each leg remains close to the same, we've created a new "hub" at Waypoint Park. Please make sure you are familiar with the new courses.
CLICK HERE TO REVIEW THE COURSES
Results and Team Tracking
Results will be posted in real-time on the Pacific Multisports website. You will be able to see when your teammates have passed a transition. This should make it easier for your team to know when your next racer should start getting ready.
FOLLOW LIVE RESULTS AND TRACKING HERE
Equipment
You are responsible for providing your equipment. There are no restrictions except that it must be human-powered. All legal safety equipment is required: bike helmets, PFD, kayak whistles, and bilge pumps. Recommended: Bike repair kit, tube, pump.
Gear drops start at 9:00 AM at the hubs. We will have volunteers there from 9:00 am onwards to show you the way.
Transition Procedures
Athletes only will be allowed in the transition areas. You will need to show your race number to enter and exit. Your race number must match the equipment you are removing
No nudity – if you need to fully change please use the restroom.
On-Course Emergencies/Drop Outs
If you are in or come upon an emergency situation CALL 911. After that please contact Race Director Marc Blake at (626) 376-1125 and give him the TEAM number so we can inform teammates and emergency contacts. Stay with the person and tell the next person to alert a volunteer.
If you have to drop out of the race, please tell a volunteer and give them your race chip so it can be returned to us at the finish line.
Awards/After Party
Join us at the Boundary Bay Brewery Beer Garden for a fun and family friendly after party. The Beer Garden will be open from 3:00 onwards – the BBQ will be lit, and you can try the limited-edition Traverse Hazy IPA on tap.
We will have some special random giveaways throughout the evening – compliments of our awesome sponsors.
At 5:30 we'll present Overall Awards to the 1st, 2nd, and 3rd place teams in all 4 race categories (chinook, coho, chum and nonprofit/company divisions). The winning company team will also get to take home s stunning traveling trophy to display until the 2023 race.
Thank you for being a part of the 2022 Bellingham Traverse. We can't wait to cheer you on!
Marc Blake & Tyler Pouley (Race Directors) on behalf of the organizing team.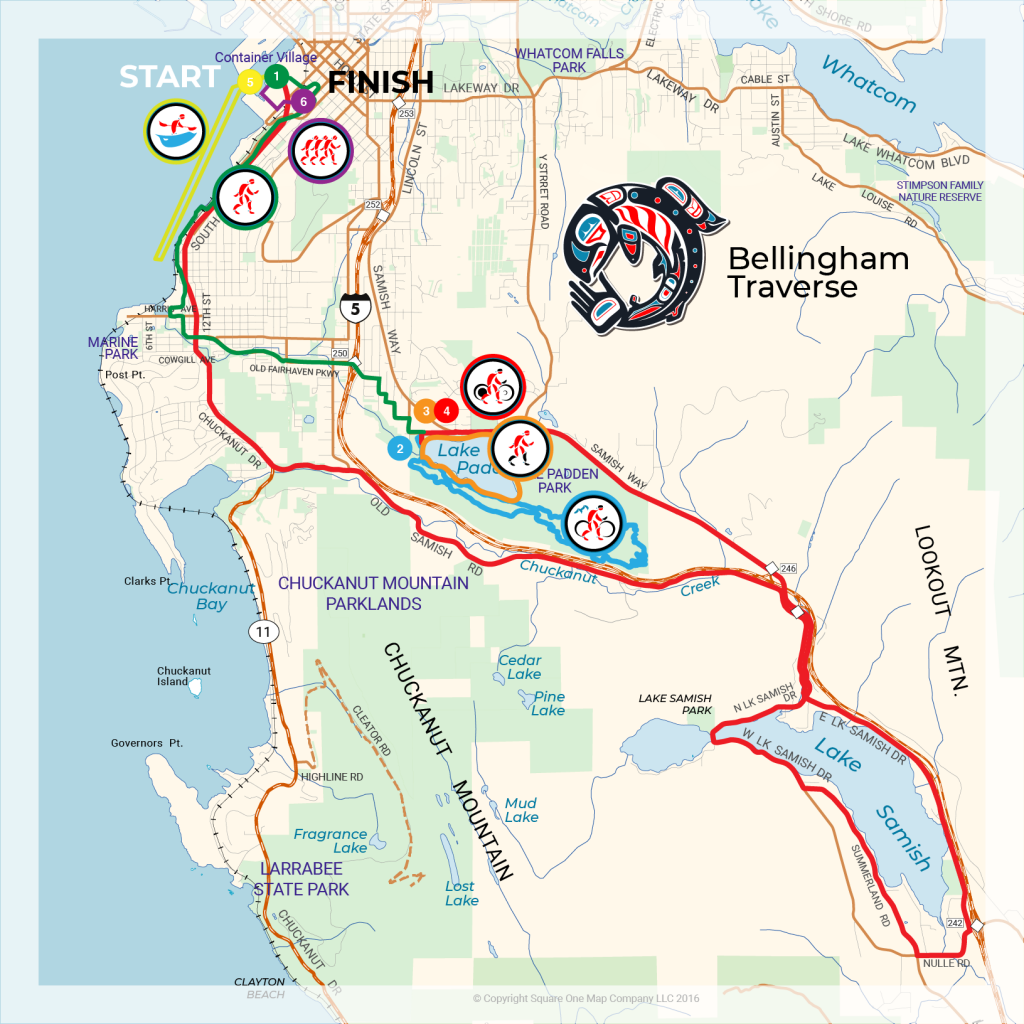 2022 Bellingham Traverse Course